TATA Bus S14586 Celebrates 2 Year Anniversary of Promoting Good Governance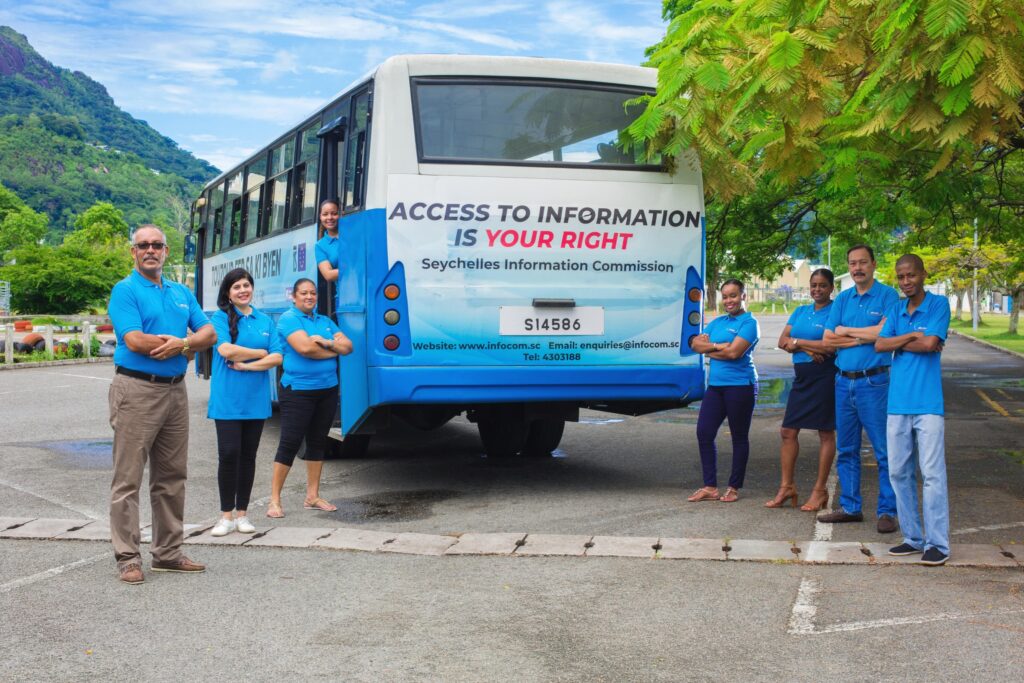 Next month, TATA Bus S14586 celebrates its 2-year anniversary marked as a vehicle for promoting good governance in Seychelles. The bus has travelled 125 kms and transporting approximately 320 people per day carrying with it a message on good governance.  The slogans are:
"Do what is right, even if no one is looking.
Touzour fer sa ki byen, menm si napa lizye lo ou.
Access to Information is your right"
This initiative is a joint collaboration by the Information Commission (InfoCom), Transparency Initiative Seychelles (TIS) and Seychelles Public Transport Corporation (SPTC) with the intention that it would be an active and accessible way to disseminate the message to the public and raise awareness apart from the traditional methods of literature promotion.
The Information Commission was legally established in 2018 and is guided by the Access to Information (ATI) Act, 2018.  It is a self-governing, neutral and independent body mandated to:
Promote the right of access to information;
Foster good governance;
Enhance transparency, accountability and integrity in public service;
Encourage participation of people in public affairs;
Expose corrupt practices (a key component of an open government).
In speaking with the Chief Information Commissioner, Ms. Mumtaz Hasan, and Information Commissioners, Mr. Desire Payet, Mr. Antonio Lucas and Chief Executive Officer Ms. Thereza Dogley, a reported total number of ATI requests for access received in 2018/2019 was 2627 cases and 2020 was 2274 out of which the number of requests for access granted in full were 2372 cases and 1116 cases respectively.  This is a promising start.  In some cases, partial information was provided or no record was available or sensitive information.  A few cases underwent investigation and appeal.  Analysis of the statistical data reveals that the ATI is being used by the public to gain access to information.  There is a systematic process via the 'How to Manual' which is now in place to clarify roles, responsibilities and to strengthen institutional practises.  The Information Commission continues to monitor and guide the overall, create awareness and a mindset of good governance and capacity build the public bodies and civil society to effectively engage with each other.
Further details on the How to Manual and Statistical Report for 2018-2020 are published on our website www.infocom.sc